I have had an Accuquilt Go! Baby Cutter to play around with for a couple of weeks now, and I have to say that it's a handy contraption!  It's quick, it's easy and it's accurate. 
At first I was cutting too many layers (so typical of me!) and I had cut it down to about 4-8 layers (depending on the type of fabric used), but as soon I did that, all was well.  The squares for Danika's quilt were cut out in quick order!  I used the 5" square:

(Many thanks to my somewhat-willing quilt holders!)
I found that if I placed the fabric on the cutter just right, there was very little waste.  A tiny bit more than cutting with a rotary cutter and mat, but the time saved was well worth the small amount.  There were generally a few threads that needed to be cut on each pass through, but (again) it was well worth the time the cutter saved me.

I have a hexagon and a tumbler die just waiting to be used.  My DS prints will be cut with the tumbler die (picture coming soon) and I am thinking of reds with linen for the hexagons.  Still thinking on that one...
Would you like a Go! Baby Cutter for yourself?  I thought so!  Accuquilt is allowing me to give away one of these little machines, along with 3 dies---your choice!
To enter, all you need to do is to leave a comment in this post.  You can check out the dies on the website.  And you can sign-up for Accuquilt's newsletter by clicking on the graphic below: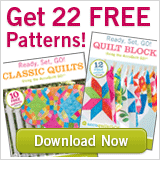 The winner will be announced on Saturday.
Best wishes to you all!