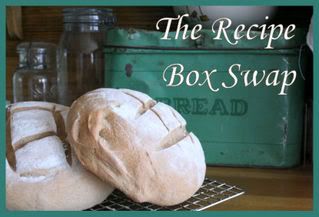 Welcome to February's Recipe Box Swap! This month's theme is Fun Foods. If you have a recipe you would like to share, simply post it on your own blog and then add your post URL to the auto-link below. Everyone is invited!
OK, let me get this out in the open:  I LOVE BACON!  My hubs has stopped eating all red meat and  most pork, and since I cater to his whims when I plan our menus (he is spoiled!), this leaves me giddy when I get a chance to eat some bacon.  Last week we snuck in BLT's while he was at work and I was in heaven.  I often think that I could be a vegetarian as long as I could be allowed to eat bacon, but that probably wouldn't go over very well in the non-meat eating community.  Ah well...
When I am in the mood for something bacon-y, cheesy and downright salty yummy, I always make these goodies.  Potato Skins are one of my favorite fun-foods.  Pair these with a salad and you can almost call it a meal.  Not a healthy meal, but a meal!
Potato Skins
6 large potatoes, 2 tsp. cooking oil, 1-1/2 tsp. chili powder, several drops of Tabasco, 8 slices cooked and crumbled bacon, 2/3 cup finely chopped tomato, 2 TB. chopped red onion, 1 cup shredded cheddar cheese, ranch dressing
Scrub potatoes and prick with a fork and bake at 425 degrees for 45 minutes, or until done.  Cool
Cut each potato lengthwise into 4 wegdes (I cut mine in half since they were small).  Scoop out the inside of each wedge, leaving a 1/4" shell. 
Combine the oil, chili powder and tabasco, and brush this on the inside of each potato.  Place potatoes on baking sheet.
Sprinkle wedges with bacon and cheese and bake for 10 minutes or until cheese is sufficiently melty.  Top with tomatoes and onions and dip in the ranch dressing. 
These make a fun movie-night snack!