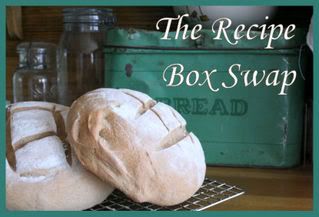 Welcome to November's Recipe Box Swap! This month's theme is Holiday Favorites. If you have a recipe you would like to share, simply post it on your own blog and then add your post URL to the auto-link below. Everyone is invited!
I wasn't sure which recipe to post for this, but I went to a cookie-swap on Tuesday and that clinched my decision: Chocolate Crinkles. These cookies are so good and they taste like chewy brownies, plus they are fun for the kids to help make. We like to give these out to friends over the holidays and, so far, everyone loves them!
CHOCOLATE CRINKLES
4 eggs
1-3/4 cups granulated sugar
4 ounces unsweetened chocolate, melted and cooled slightly
1/2 cup cooking oil
2 teaspoons baking powder
2 teaspoons vanilla
2 cups all-purpose flour
2/3 cup powdered sugar
Directions
1. In a large bowl, combine eggs, granulated sugar, melted chocolate, oil, baking powder, and vanilla. Beat with an electric mixer on medium speed until combined, scraping side of bowl occasionally. Gradually beat in as much of the flour as you can with the mixer. Using a wooden spoon, stir in any remaining flour. Divide dough in half. Cover and chill for 2 to 24 hours or until dough is easy to handle.
2. Preheat oven to 375 degrees F. Lightly grease a large cookie sheet; set aside. Place powdered sugar in a small bowl. Shape one portion of dough into 1/2-inch balls. Shape the remaining portion of dough into 1-inch balls. Roll balls in powdered sugar to coat generously. Place balls 1 inch apart on prepared cookie sheet.
3. Bake small cookies in the preheated oven about 8 minutes or until edges are set and tops are dry. Bake large cookies about 10 minutes or until edges are set and tops are dry. Do not overbake cookies. Transfer cookies to a wire rack; let cool. (Cookies will deflate slightly upon cooling.) Makes about about 72 small and 36 large cookies
These cookies also work well at other times of the year, but in our house they are a Christmas favorite!

Happy cooking!