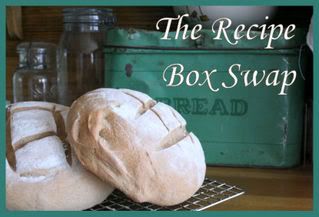 Welcome to November's Recipe Box Swap! This month's theme is, well, no theme at all, which means that anything goes! Do you have a recipe that you would like to share? Simply post it on your blog today and add your post URL to the auto-link below, that way people can come by and see what you have cookin"!
Today I am going to go all the way and give you my Oatmeal Cookie recipe. A friend gave me this one years ago and it was an instant favorite of ours. Not only are the cookies perfect--thin, crisp and buttery--it is also the best cookie dough you will ever eat. Just forget the fact that there are eggs in it, take a bite and see for yourself. You may end up with just a few cookies, but it is worth it!
Randi's Oatmeal Cookies
1/2 cup butter
1/2 cup granulated sugar
1/2 cup brown sugar
1 egg
1 tsp. vanilla
1 TB. milk
1 cup flour
1/2 tsp. baking soda
1/2 tsp. baking powder
1/2 tsp. salt
1 cup oatmeal
Cream together the butter and the sugars. Add the egg, vanilla and milk and stir until well blended. Add the flour, soda, powder and salt and stir until combined. Finally, stir in the oatmeal.
Drop by spoonful onto an ungreased cookie sheet. Bake at 350 degrees for 10-12 minutes. This makes about 2-1/2 dozen cookies, unless you eat a whole bunch of the batter.
Eat and enjoy! You might want to make a test batch for yourself before you spring these on the family. You know, just in case the turn out bad or something! ;)
Happy cooking!