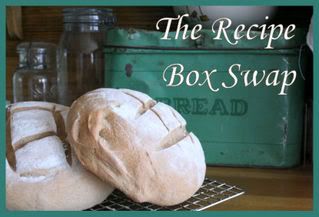 Welcome to this month's edition of The Recipe Box Swap! Today's feature is Lunchbox Favorites. Favorites for the kids, yourself or the whole family are on the menu!

If you have a recipe you would like to share, all you need to do it post it on your blog and add your post URL to the auto-link below.
Let's get cookin'!
One of our favorites at lunchtime are wraps. Basically we take a tortilla and wrap just about anything in them. This lunch is versatile and it can also be secretly healthy for the kids since it is pretty easy to sneak in some veggies. Really, they won't know the difference.
Ingredients:
Flour tortillas (whole wheat or white work fine)
Cream Cheese (I like to use the kind in the tub since it is softer and easier to spread)
Cheese of your choice (cheddar, monterey jack, feta, mozzerella)
Veggies of your choice (shredded fresh spinach, sliced tomatoes, sun-dried tomatoes, red onion)
Lunchmeat or beans
Here are some examples:
Greek: feta cheese with sun-dried tomatoes, spinach and chicken
Mexican: monterey jack cheese with tomatoes, black beans and red onions
Italian: cheddar cheese with pepperoni, red onion and tomatoes
American: mozzerella, turkey, tomatoes, spinach and red onion (this is what is shown in the photo)
To assemble:
Spread about 1 TB (more or less) of cream cheese on top of a tortilla. Add lunchmeat, cheese and veggies until it looks something like this:
Roll it up tightly until it looks like the top photo.
My kids like to assemble these themselves, although I always make them add some veggies since they tend to try to do without. We usually eat these at home, but they work well for lunchboxes too!
Happy cookin'!