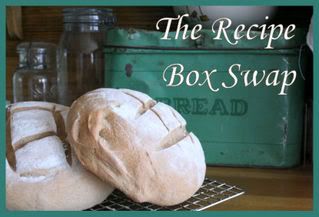 Welcome to The Recipe Box Swap---Bars and Cookies!
If you have a recipe posted on your blog, please leave your post URL in the auto-link waaaaay down at the bottom of this post. Otherwise, just enjoy your visit and feel free to search the recipe links below.
I love to make bars and cookies! My family loves to eat them! One of my/our favorites is Lemon Squares, a recipe handed down from my mom. The funny thing is that my mom is not a great cook, but this one recipe that I have of hers is great!
Honestly, if I am in the right mood, I can eat most of these by myself. Of course I regret that later, so I don't recommend that practice, but I do suggest that you try these:
Lemon Squares:
For the crust mix together these ingredients:
1 cup flour, 1/2 cup butter and 1/4 cup sugar.
Blend until smooth and press gently into an 11" X 7" baking pan. Bake in a 325 degree oven for 20 minutes.
Combine these ingredients for the top layer:
1 cup sugar, 2 eggs (lightly beaten), 1 tsp. grated lemon rind, 3 TB. lemon juice, 1/4 tsp. salt, 2 TB. flour, and 1/2 tsp. baking soda.
Stir until well blended. The mixture will become slightly foamy as it sits.
When the crust is done cooking, pour the lemon mixture over it and then bake an additional 25 minutes. Cool completely in the pan and then sprinkle with powdered sugar. Cut into squares and enjoy!
I promise you will love these!