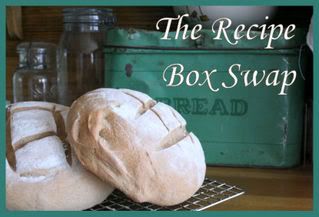 Welcome to The Recipe Box Swap!
If you have a recipe posted on your blog, please leave your post URL in the auto-link waaaaay down at the bottom of this post. Otherwise, just enjoy your visit and feel free to search the recipe links below.
One of my favorite dishes of all time is Greek Gyros. I honestly have no recollection of where I found this recipe, but whenever I make it I eat WAY TOO MUCH! Since part of my family is eating meatless, I have also made this with a soy meat-substitute and it tastes pretty good too, although I prefer the pork.

Gyros:
1 cup minced onion
4 cloves minced garlic
2 pounds ground pork
4 TB. lemon juice
1 tsp. oregano
1 tsp. cumin
Saute onion and garlic in a bit of oil until onion is transparent. Add the rest of the ingredients to the onion mixture and cook until the meat is browned.
Sauce:
8 ounces plain yogurt
1/2 tsp. vinegar
1/2 tsp. dill
1/2 tsp. salt
1 tsp. sugar
Combine all sauce ingredients and chill until ready to use.
Basically, you put some meat, some sauce, and some lettuce, tomato, red onion, olives, sliced cucumber and peppercinis in a pita pocket and enjoy! (I use this fabulous recipe for the pitas.)
Serve with a salad of lettuce, tomato, red onion, cucumber, olives and peppercinis. You may also add some Feta cheese, if you like.
Happy cooking!